Phone Services
Stay connected with our top-notch phone services – never miss an important call again!
\KeylinkIT
What You Get with
our Phone Service:
KeylinkIT provides a reliable and professional phone service for your business needs. With our mobile and desktop applications, you can make calls using your business caller ID from anywhere. Our unlimited minutes ensure that you never have to worry about going over your allotted time. Our HIPAA compliant service also ensures that your calls remain secure and confidential.
Our phone service also includes phone system backups and power supply, including POE switches and injectors, to keep your communication running smoothly. We offer the option to port your existing phone numbers to our service, providing continuity for your customers. Our team provides warranty and installation for our phone service, as well as ongoing support. At KeylinkIT, we're dedicated to keeping you connected, so you can focus on growing your business.
Porting of Existing phone numbers
Warranty & Installation provided by KeylinkIT
Fanvil X5U ($115 physical phone) NO CHARGE
Fanvil X5U
Want More Details?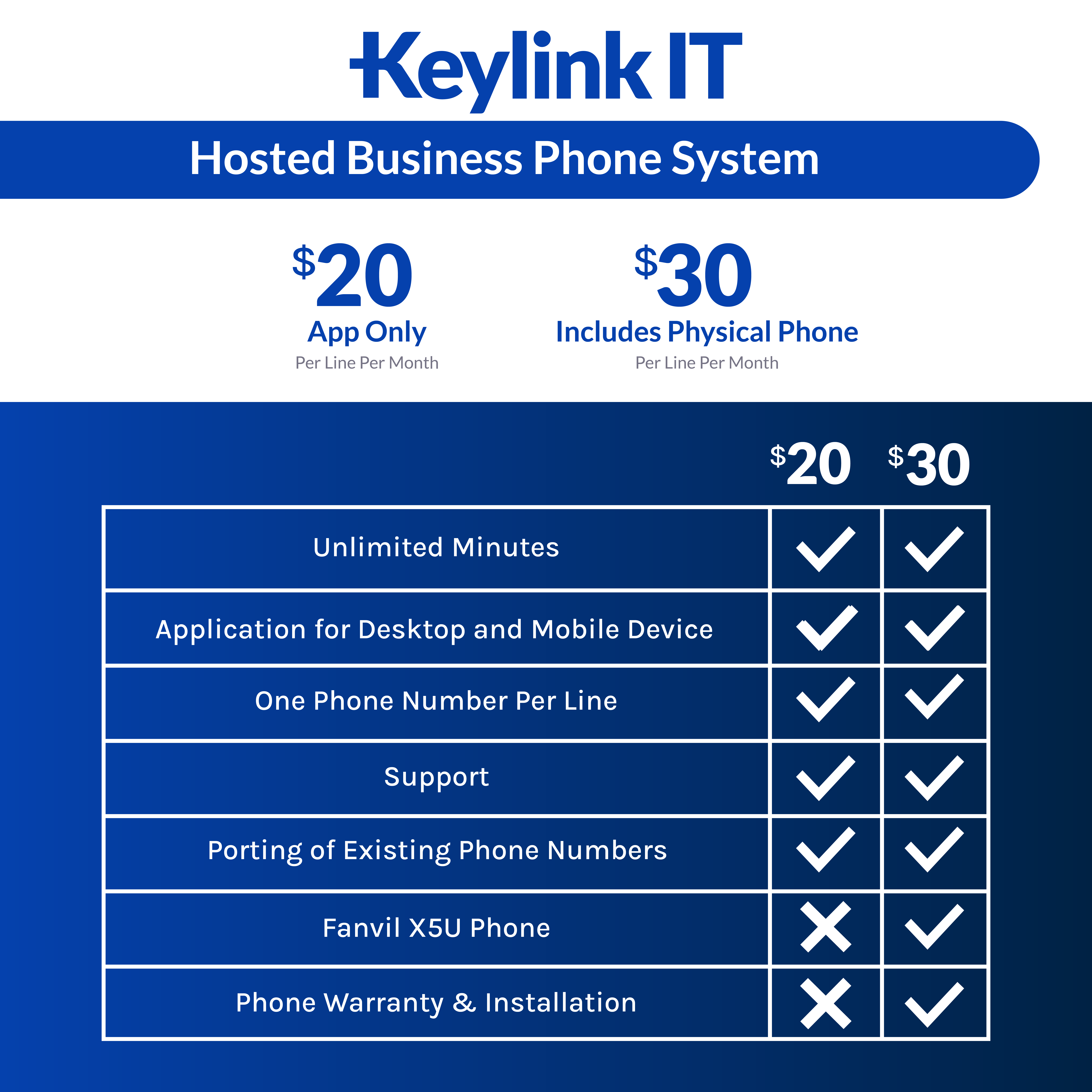 Keylink IT is your dependable and professional partner for all your business communication needs, offering a comprehensive and secure phone service that's designed to empower your operations. Our commitment to excellence is reflected in the array of features we provide, ensuring seamless connectivity and unwavering reliability for your communication infrastructure.
Our mobile and desktop applications redefine the way you interact with your phone service. With the convenience of these applications, you can initiate calls using your business-specific caller ID from any location. This freedom is complemented by the assurance of unlimited minutes, freeing you from the constraints of time and allowing you to engage in meaningful conversations without apprehension.
A hallmark of our service is its compliance with the stringent HIPAA standards. We recognize the significance of confidentiality, especially in sectors that handle sensitive information such as healthcare. By adhering to HIPAA requirements, our service ensures that your calls are safeguarded and remain completely confidential, providing you and your clients with peace of mind.
To fortify the reliability of your communication, our phone service incorporates meticulous provisions. We furnish phone system backups and power supply solutions, including Power over Ethernet (POE) switches and injectors. These mechanisms guarantee the uninterrupted operation of your communication network, even in challenging circumstances, underscoring our commitment to delivering communication solutions that stand the test of time.
Should you wish to maintain continuity, we offer the facility to port your existing phone numbers to our service. This seamless transition allows your customers to stay connected without disruption, enhancing their experience and solidifying your professional image.
Our dedicated team takes your experience a step further. We provide comprehensive warranty and installation services for our phone systems, ensuring that your setup is executed flawlessly and functions optimally. Moreover, our commitment extends beyond installation – our team offers ongoing support, helping you address any queries or concerns that may arise.
In essence, Keylink IT is driven by the desire to keep you connected effortlessly and reliably, enabling you to channel your energy into expanding your business. Our phone service, characterized by its managed Technology Solutions, falls under the broader umbrella of our Technology Services, ensuring that you're equipped with the best tools to thrive in the modern business landscape. With Keylink IT, your communication needs are not just met; they're exceeded.
Office
535 Shute Lane
Hendersonville, TN 37075
Hours
M-F: 8am - 5pm
S-S: Closed