KeylinkIT
SharePoint and File Syncing: A Quick Overview
SharePoint, developed by Microsoft, revolutionizes how companies manage documents, collaborate, and communicate. Its standout feature, seamless file syncing between the cloud and local devices, offers significant advantages for businesses and their employees:
1. Unified Collaboration: SharePoint fosters teamwork by providing a centralized hub for files, fostering better communication and streamlined workflows among employees.
2. Remote Flexibility: With file syncing, remote and distributed teams can access and collaborate on documents, boosting productivity even when working from different locations.
3. Efficient Communication: Real-time collaboration reduces delays in document sharing and decision-making, enabling faster responses to market demands.
4. Enhanced Security: Automatic cloud backups mitigate data loss risks, ensuring business continuity and safeguarding critical information.
5. Controlled Sharing: Companies can securely share sensitive documents with granular permission settings, ensuring only authorized personnel access certain data.
6. Compliance and Auditing: SharePoint's tracking and version control help companies meet regulatory requirements and internal auditing needs.
7. Employee Empowerment: Employees gain flexibility to work on documents offline and switch devices seamlessly, enhancing their work-life balance.
8. Scalability: SharePoint's versatility accommodates companies of all sizes, making it equally beneficial for startups and enterprises.
Incorporating SharePoint and its file syncing capabilities elevates operational efficiency, collaboration, and data security, ultimately contributing to a more agile and productive work environment for both companies and their employees.
1. In a web browser, go to https://portal.office.com
2. Log in with your Microsoft 365 credentials
3. Click on the 'SharePoint' icon
4. Select the SharePoint site you want to synchronize. In case your desired site isn't visible, you have the option to search for it:
5. After you've navigated to your selected site, proceed to click on the 'Documents' option located on the left-hand side: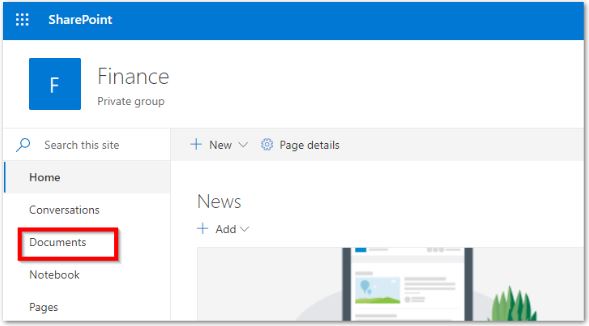 6. Now click on the 'Sync' button:

7. A prompt will appear to launch 'OneDrive'; please click on Open.
8. When you subsequently access Windows Explorer, you'll notice the SharePoint library you've recently synchronized: